Heden ten dage zijn er bepaalde mensen die er prat op gaan mensen vermoord te hebben en de maatschappij kijkt er naar en laat begaan terwijl er zelfs velen trots op die moordenaars zijn en hen zelfs verheerlijken.
Hoger geplaatsten, zoals de Filipijnse president
Rodrigo Duterte
die gezegd heeft dat hij eigenhandig criminelen heeft vermoord, beweren er mee een voorbeeld te stellen aan anderen, zoals de politie, die volgens hem te weinig doen tegen criminaliteit of terrorisme.
Met harde hand treedt Duterte hard op tegen de drugsoverlast in zijn land. Sinds zijn aantreden eind mei zijn er zeker 5.000 drugsdealers of mensen die al dan niet terecht beschuldigd worden van drugshandel en zelfs -gebruik omgebracht door doodseskaders.
Duterte die zelfs kinderen vanaf 9 jaar oud in de gevangenis wil kunnen steken, wordt beschuldigd van het schenden van mensenrechten, maar onder de Filipino's maakt hij zich er populair mee.
Ook president
Assad
is met zijn verschrikkelijk optreden tegen hen die zogezegd niet voor hem zijn, zeer populair bij zijn aanhangers.
Bashar al-Assad
die tot president werd gekozen in 2000 en werd herkozen met 'schertsvertoningen' in 2007 met 99,8 en in
2014
met 88,7 procent van de stemmen, laat al meerdere jaren barbaarse oorlogsmidaden uitvoeren over zijn eigen volk en dat van
Iran
en
Irak
.
Onder het mom van ISIS en terrroristen te bestrijden valt hij onschuldige mensen aan. Hij gebruikt gasbommen, bomvaten en clusterbommen of het niets is.
De VN

heeft gezegd geloofwaardige berichten te hebben
van
tientallen burgers over verschrikkelijke wandaden die pro-regeringstroepen in de stad
uitvoeren
. Ook de televisiebeelden die wij te zien krijgen hier in het Westen spreken boekdelen. Soldaten die huizen binnen vallen of gewoon van op straat continue door inkomdeuren en ramen blijven schieten van gewone huizen, alsook kleine onschuldige kinderen doodschieten.
Via sociale media bereiken ons ook noodoproepen van gewone burgers die laten horen hoe zij als ratten in de vall zitten, belaagd door meerdere groepen die elkaar bestrijden maar zich ook richten op de bevolking die zich afzijdig wil houden en slachtoffer is van dit al meer dan vijf jaar aanslepende conflict.
De geciviliseerde wereld haar eerste opdracht zou moeten zijn om tegen die oorlogsmisdadigers fel op te treden en om steun te leveren aan de gewone burgerbevolking die buiten deze strijd wil staan en wier levens in gevaar komen.

Het is onvoldoende om steeds maar te horen dat de VN en de westerse mogendheden zouden gaan samenwerken met partners om te kijken welke stappen ze kunnen nemen om ervoor te zorgen dat mensen ter verantwoording worden geroepen voor hun daden daar. Al jaren weet men van vele oorlogsmisdaden maar zien wij dat er nog steeds niet opgetreden is tegen die criminelen.

Groot-Brittannië zal bij de Europese Unie (EU)-leiders tijdens een top op donderdag er op aandringen om een "sterke, duidelijke verklaring" over de noodzaak van humanitaire toegang en een wapenstilstand in Aleppo veilig te stellen.
Er moet hoogdringend een einde komen aan die verschrikking die de mensen in Syrië en Irak moeten mee maken. De gruwelijke beelden die telkens opduiken van de bombardementen die Syrische en Russische troepen hebben uitvoeren op Aleppo en andere steden kunnen niet telkens gefabriceerd zijn of zo maar propaganda materiaal van de tegenpartij zijn. Weer eens wijzen de onlangs geziene fragmenten dat het leger opnieuw chemische wapens gebruikt tegen de ingesloten burgers. Zelfs kinderen worden niet ontzien.
De dodelijke slachtoffers hebben brandwonden aan de neus en de mond, hun gezichten zijn blauw verkleurd en ook hun ogen dragen de sporen van gas. Bij een klein meisje is zelfs het haar verbrand door de chemicaliën.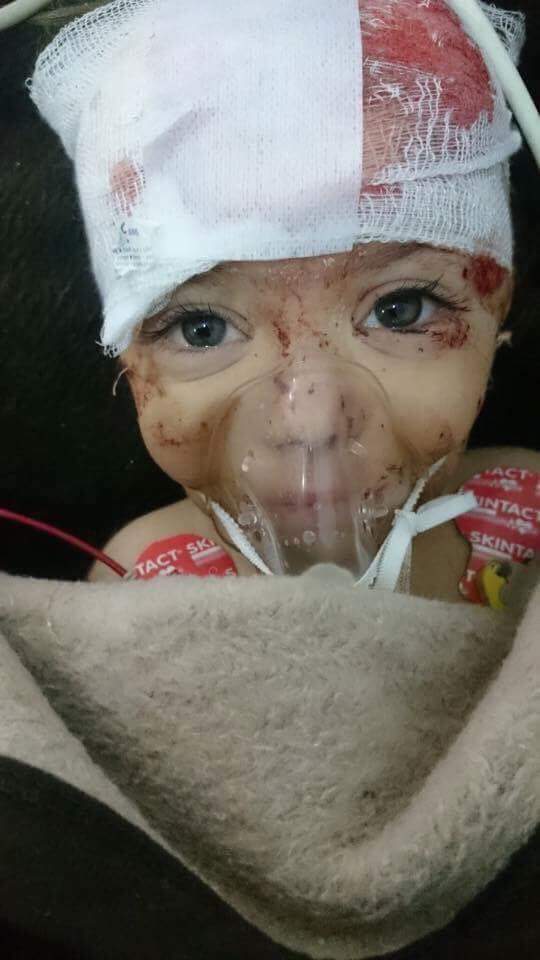 De Duitse krant BILD checkte de echtheid van de beelden en het nieuws bij bronnen op het terrein.

"Net voor zonsopgang hebben helikopters van president Assad twee bommen op de wijk al-Sakhour gedropt en één ervan was gevuld met chloorgas",
aldus een correspondent van het nieuwsagentschap ElDorar AlShamia.

Volgens bronnen in rebellenkringen worden conventionele explosieven gecombineerd met chemische bommen om de schade bij de slachtoffers nog groter te maken.